Party drums in Benirrás, Ibiza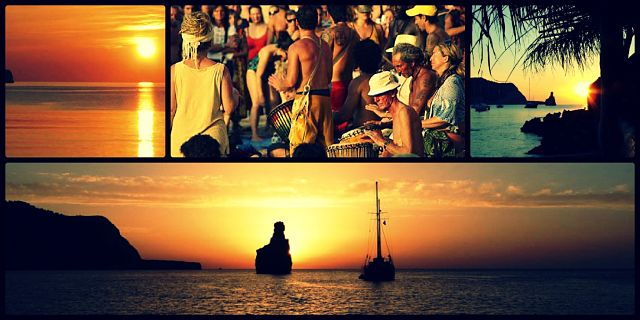 On the feast of drums Benirràs is where you can enjoy more authentically hippy atmosphere that focuses on Ibiza.
Benirràs beach is worth a visit by itself, although the party drums Sunday afternoons only be held in the summer months. Although it started spontaneously by a group of hippies who found this place a magical point thanks to the light projected from the sea, is now an event that few are lost and Benirràs has become one of the essential beaches.
From the sand to the beach, you can enjoy one of the best sunsets in Ibiza. You can perceive the different shades they acquire the sky and the sea with a special light, but the spectacle of the hippies with their feast of the drums is no less category.
The improvised rhythms arising from Benirràs drums and hands of hippies is an experience of the remaining few. It is recommended to stay away cautiously if all we do is take pictures, but of course are invited to participate in the experience with your presence helping to create more room or even your own drum following the various rites and improvised rhythms.
Notably, the rhythm of the drums continues all afternoon, and as it approaches the sun, the festival attracts more people and drums join the party. Therefore, be advised that access to the beach by car is quite complicated, because it is not easy to find parking and the police are vigilant that no illegally parked cars. We recommend going to the beach as soon as possible and not wait until last minute to avoid jams.
Furthermore, remember that Benirrà s beach is small and the number of people who come to the festival of the drums every Sunday is very large, especially in the months of July and August. This fact, and the noise of the drums can be tiresome, we do not recommend going to this beach if you're looking for tranquility and especially if going with young children.