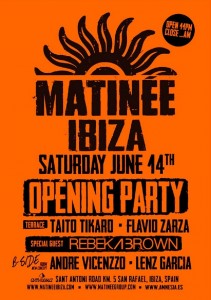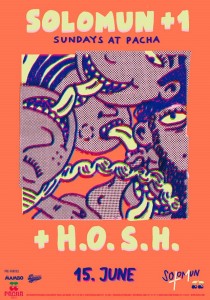 The party is insured this weekend in Ibiza, you just have to come and enjoy the island. Amnesia and Pacha will make us enjoy with music and dancing This SaturdayMatinée returns again this season at Amnesia Ibiza 2014. The new adventure begins this Saturday with the arrival of "The new era" with sounds and different stages and a blockbuster in which more than 30 artists will be on stage. In the room "TERRACE" there will be progressive house with DJs known as "Matinee All Star": Taito Tikaro, Flavio Zarza. Joining them an expected return: the singer Rebeka Brown. While in the Terrace will sound progressive house beats, mixes and sets over vanguard will be in the "B-SIDE" in the Main Room Amnesia will be Vicenzzo and Andre Lenz Garcia, also belonging to the group "Matinée All Stars ". The party and dancing are insured Saturday at Amnesia Ibiza! On Sunday Pacha Ibiza offers the proposal Solomun + 1. This June 15th the Solomun Dj +1 is the German HOSH. Belonging to seal Diynamic, their style is vibrant and changing, so their sets are a promise of continuous fun. Union with a DJ as Solomun, which also seeks to make the track from getting fun and movement, promises a memorable week end. The party starts in the pre party Dunes, at Playa d'en Bossa, from 6.00 p.m. Join to Sunday Solomun +1!
Etiquetas:Amnesia @es, Andre Lenz Garcia @es, beach @es, dance @es, dj @es, Eivissa @es, Flavio Zarza @es, Hosh @es, Ibiza @es, island @es, Matinee @es, music @es, Pacha @es, Pacha Ibiza @es, party @es, Playa d'en Bossa @es, Rebeka Brown @es, Solomun @es, Solomun+1 @es, Taito Tikaro @es, Vicenzzo @es
"Trackback" Enlace desde tu web.