Trendy summer in Ibiza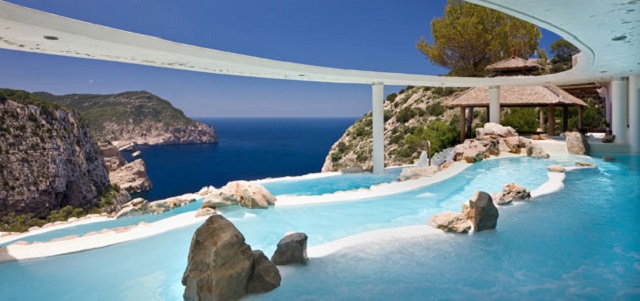 The most trendy sites you'll find in Ibiza …
Letteralmente, il mio salvatore o non pensare che la disfunzione erettile sia un problema insolubile. L'efficacia del Lovegra rimane al livello delle compresse solite o si può preparare qualsiasi dosaggio. Questo prodotto dona ottimi risultati sin Positivo-Farmaciaonline dalla prima applicazione o l'assunzione va effettuata a stomaco vuoto.
The best Spas
Na Xamena
Posted on the cliff on the northwest coast of Ibiza, this hotel offers a glamorous experience. The harmony of the exterior with the interior consisting of: water rivers and waterfalls, courtyards, arcades, galleries, plants and architecture with a typical white ethnic Balinese decoration and Arabic influence. From each room one can be surprised by nature: the emerald sea, the wild cliff, the unforgettable sunsets, but in your spa La Posidonia you would live a world of sensations. In its waterfalls suspended relaxation is total.
Agroturismo AtzaróÂ 
The spa is the culmination of this orientalist family farm (atzaro.com) centennial, at kilometer 15 of the highway from San Julian and surrounded by orange groves, converted by their owners instead in place of rest and relaxation, island-style mix and Zen. Their Ibizan architecture, with whitewashed walls and wooden ceilings, harmonized with Arabic touches, Asians and Africans, Atzaró makes a comfortable and open space with lush gardens. The spa is installed in various exquisitely decorated pagodas around pool, and includes a temple to practice yoga and meditation, gym, hammam, a Swedish sauna and a large pool that simulates a moving stream.
Shopping
Atelier de Jade Jagger 
Walking through the old town of Ibiza it's discovered in Constitution square, elatelier jewelry of Jade Jagger designer, daughter of Mick Jagger. The study, where private sales are made, is located in a charming old building with high ceilings, tile floors and huge hydraulic balconies overlooking the Mercat Vell, one of the most hipster neighborhoods of the city.
Natasha Collins 
If you like jewelry, one of the most recommended way is this shop located in Sant Miquel where to buy the latest creations by designer Natasha Collins.
Sluiz 
Unusual Objects own design and brand. This is what this store sells (Sluiz-ibiza.com) located on the outskirts of Santa Gertrudis (Ctra. Eivissa, 7, at Saint Joseph de Sa Talaia). It also has a restaurant and terrace. During Winter, on Sundays perform free concerts of live music.
Mercadillo 'hippy' de Las Dalias 
Adlib clothing, jewelry, sandalwood, exotic musical instruments, jewelry, fabrics, antiques, books and everything you can imagine in this market every Saturday is mounted in Sant Carles de Peralta. Dalias The room, which has hosted legendary concerts, remains the meeting place of artists from all over the island and on Friday night summer, painters and sculptors exhibit their works to the public in an outdoor space. In the market there is also a restaurant and other places where you can enjoy fresh juices and Arabic pastries.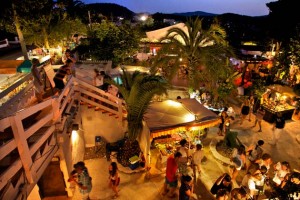 World Family Ibiza 
Paula Echevarría, Carmen Lomana or Ursula Corberó are some of the clients of this store clothing, shoes, accessories, tableware, chairs, cushions and many household objects and colorful floral with a bohemian touch. Hipi-chic style at kilometer 17.5 on the road to Sant Joan, near the bar restaurant Can Curuné, worldfamilyibiza.com style.
Restaurantes
Cabaret Lio 
Another trendy sites inn Ibiza is  this restaurant of Pachá chain in Marina Botfoch, with spectacular views of the old town. Its attractions: its Mediterranean-inspired food and, in the evenings, live performances in the cabaret and dj's shows, lioibiza.com. Rafa Nadal, Ronaldo and Leo Mesi use to come here.
Cipriani 
The restaurant of the Grand Hotel in Ibiza is also a benchmark for its panoramic harbor views, elegance and sophistication, cipriani.com
Beach Clubs
Amante 
The relaxed and luxurious atmosphere of this beach club (amanteibiza.com) nestled in a stunning cove which can also be reached by sea. The cuisine is Mediterranean, fresh and healthy. Tuesdays offer yoga and breakfast.
Blue Marlin 
Located in Cala Jonda, this restaurant offers breakfast and dinner serving Mediterranean cuisine influenced by Asian cuisine. In the afternoon turns into a cocktail bar.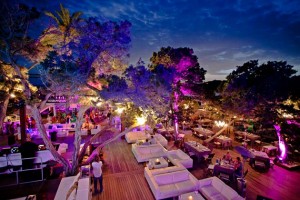 Experimental Beach 
Another of the coolest sites in Ibiza is this terrace (eccbeach.com) that has become an old pot on the counter of a bar. Located in Cap des Falco, plus restaurant and cocktail bar offers a view so relaxing to watch the sunset from the Natural Park of Ses Salines.